Una vista panoramica, cocktail, people, life, music, style, tutto questo in un unica parola " Rooftop Bars"
Il Life style nella città madre, spesso denominata "Riviera Africana " offre uno stile di vita cosmopolita. Cape Town oltre ad offrire cultura, e storia anche l'intrattenimento è una cosa seria.
Bellezza mozzafiato e infrastrutture ben sviluppate, in modo da poter vivere questa città al meglio in tutte le sue sfumature e i suoi mondi diversificati e coinvolgenti.
Oggi lo facciamo, attraverso viste panoramiche talvolta spettacolari, dove passare delle calde giornate estive, o delle serate piacevoli, per ogni tipo di occasioni, e atmosfere che voi vorrete vivere.
Allora l'estate sta per arrivare, munitevi di protezione solare, e godetevi un cielo terso, a bordo piscina o una serata diversa, vibrante che Cape Town offre.
CLOUD 9 ROOFTOP BAR
Sorge nel quartiere Kloof Nek di Cape Town, il Cloud Boutique Hotel & Spa si trova all'interno, con un panorama a 360 gradi sulla città madre. Aperto al pubblico, potrete usufruire della piscina, magari sorseggiando un cocktail, vino o una birra artigianale.
THE WAITING ROOM
Situato a Long Street, se volete passare un sabato vivace è il luogo ideale. Design elegante, luci fiabesche, musica dal vivo e ovviamente non manca da bere!
RICK'S AMERICAN CAFE'
Ospitato su un palazzo stile vittoriano vecchio 100 anni, con un arredamento che risale ad un epoca passata, una band che suona dal vivo musica jaz, vi sembrerà di essere nel film Casablanca. Ampia selezione di liquori, birre artigianali e cocktail. Non è solo un bar ma anche un ottimo ristorante, per un pranzo con vista panoramica sulla Table Mountain.
HARALD'S BAR AND TERRACE PARK INN CAPE TOWN FORESHORE
Situato all' 11 piano del' hotel PARK INN CT FORESHORE offre un espressione fantastica a 180 gradi sulla città madre. Aperto al pubblico, con musica dal vivo, ottimo anche per un pranzo, altrimenti per  una giornata in relax in piscina!
SKY BAR AT GRAND DADDY
Il GRAND DADDY HOTEL a Long Street, è famoso per i suoi " AIRSTREAM VINTAGE ", uno dei tetti più cool della città, cocktail, birre artigianali, e durante tutto l'anno, sempre allo stesso piano c'è il Pink Flamingo Rooftop Cinema, dove potrete godervi un film all'aperto, in un atmosfera all'avanguardia!
ZENIT SKY BAR
In cima al Cape Royal Hotel a Green Point, troverete questo bar con una selezione di cocktail classici o esotici, con la possibilità di gustare un delizioso pranzo, sperimentando gusti nuovi, o semplicemente rilassandovi a bordo piscina, con l'immancabile vista panoramica.
TJING TJING ROOFTOP BAR
Situato a Long street, in un edificio storico restaurato, troverete un atmosfera orientale, con una lista di birre artigianali, vini, e cocktail. Se avete fame, potrete provare il loro menù di Tapas. Il tutto condito con musica dal vivo.
UP YOURS AT YOURS TRULY
Un atmosfera vibrante, buona musica dal vivo, in questo rooftop bar, a Klof Street. Un ottimo posto per rilassarsi, con una scelta di vini raffinati, liquori e birre artigianali.I vini che troverete qui, provengono da un loro progetto, con uve di un vitigno  a Wellington. Negli ultimi mesi è diventato il fulcro della scena musicale locale. Un bar tutto interamente in legno, con un desing classico, e confortevole caraterizzano questo luogo.
THE VUE
Vanta una vista mozzafiato sul porto, Lion's Head e Table Mountain, qui potrete degustare una colazione, decidere di passare una giornata calda rilassati in piscina,con un buon cocktail, oppure un pranzo leggero. Un ambiente elegante e sofisticato, con arredi artistici e di design
.
LA BOTTEGA
Situato nel quartier di Woodstock, popolare per la colazione e pranzo, questo bar con vista offre un ambiente elegante, interamente in legno, troverete un menù italiano che va dalla pizza, alle tapas per sapori nuovi, con birre artigianali, e una sorprendente lista dei vini. Troverete un modo di vivere Italiano con un pò di sapore Sudafricano.
OBLIVION
Situato nella periferia meridionale di Clearmont, un ambiente da una vivace atmosfera, cibo home made, birre, e cocktail. Dispongono di un caminetto esterno, per le fredde notti invernali, mentre per l'estate dispongono sul tetto uno spazio per un esperienza culinaria all'aperto, con musica dal vivo.
ROMNEY PARK
Una vista imponente su Robben Island e sullo stadio, con una sofisticata zona Lounge, e un bar che offre una selezione di Whisky, cocktail, e Champagne locali. Non manca la piscina, e all'interno per riscaldare le vostre serate d'inverno un caminetto scoppiettante vi aspetta!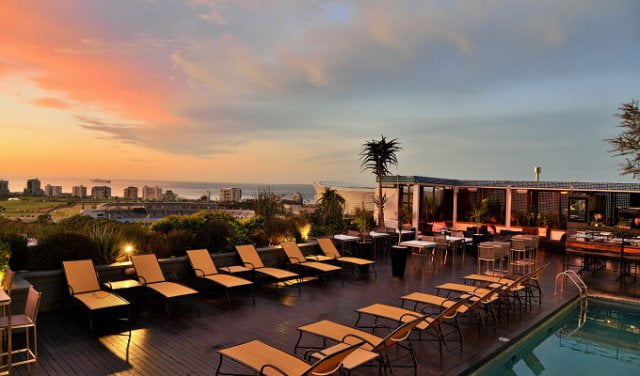 Cape Town, è un luogo di contrasti, un mix culturale, un luogo che ti dà la possibilità di essere scoperto, e di farsi conoscere in ogni sua sfumatura. Anche attraverso un tramonto, ecezionale, con un bicchiere di vino.
Rooftop, un mood del Life style per scoprire questa gemma Sudafricana.
Enjoy!