Un paese benedetto, per un clima sognante, bellezze naturali mozzafiato, da godere tutto l'anno, cibo, una popolazione sempre accogliente. In Sudafrica non siete mai lontani da luoghi che vi permettano di godervi la vita, magari facendo un bel Picnic all'aperto in un bel prato contornato da vigneti.
Se volete vivere una giornata nella natura delle winelands allora prendete appunti, molte aziende vinicole vi delizieranno offrendovi dell'ottimo cibo Home made, vino, birra e altre bevande, l'unica cosa che dovete fare è prendere il vostro cestino riempirlo e trovare il posto perfetto all'ombra di un albero per una giornata gourmet in totale relax!
BOSHENDAL: La tenuta è molto popolare per i suoi Pic-nic. Troverete cibo Home made che proviene dalla tenuta e da piccoli produttori locali, ma anche un menù che va in base alla stagione, e quindi a seconda della disponibilità dei prodotti agricoli freschi. Recentemente è stata lanciata la seconda area Pic-nic, l'una distante dall'altra di 1 Km. Rose Garden Picnic, con viste spettacolari, potrete stendere la vostra coperta o prendere un tavolo all'ombra di una delle Querce che ricoprono questo giardino
. Baguette e burro fatto in casa
. Conserve e marmellate
.Hummus fatto in casa
. Pollo, una selezione di formaggi e affettai misti, insalate
. Cioccolato, torte
WERF FARM PICNICS Un piccolo lago, padiglioni, sacchi a fagiolo per un relax totale, amache, uno spazio più ampio, un atmosfera romantica e più rilassata, ettari di giardino per i bambini. Nel vostro cestino potrete mettere:
. Pane della casa, e specialità artigianali
. Una selezione di formaggi e salumi
.Insalate fresche di stagione
. Dessert
Tutte le specialità sono fatte dagli Chef Boschendal, ovviamente il vino che non potrà mancare nel vostro cestino.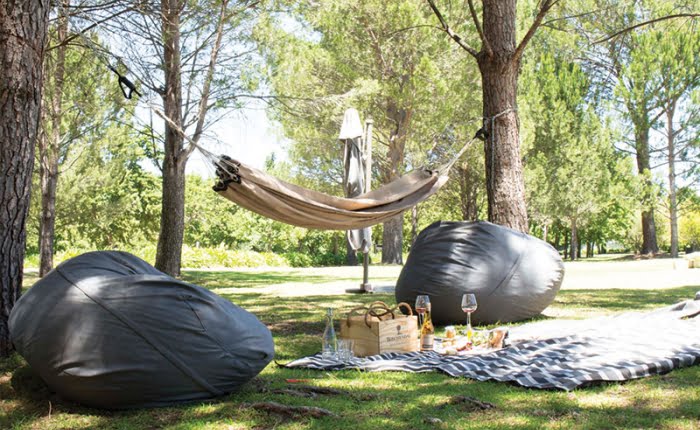 GREENHOUSE RESTAURANT AT BABYLONSTOREN
Nel giardino rigoglioso nel cuore di questa illustre fattoria vinicola, troverete il Greehouse restaurant, dove i prodotti agricoli Home made vengono serviti in casse di legno, e nel periodo invernale li potreste gustare all'interno, mentre in estate fuori all'ombra di una quercia. Un luogo ideale per gustare deliziose marmellate, succhi, thè, formaggi artigiani, pane, insalate del giardino freschissime, e conserve. Questa serra ha un atmosfera un pò vintage, e tutto il cibo segue la filosofia di questa fattoria, onesto, semplice, con sapori autentici. Nella vostra cassetta di legno potrete mettere:
. Zuppe calde o fredde
. Torta di patate, pollo affumicato, sandwich del giorno
. Formaggi della fattoria, olive marinate, insalate freschissime
. Dessert, ghiaccioli
. Una selezione di vini della fattoria
. Birre casarecce e artigianali
CAPE POINT VINEYARDS
Vista mozzafiato sulla spiaggia di Noordhoek, vigneti e ettari di Fynbos, una cantina premiata e ottimo cibo. Vediamo un pò cosa mettiamo nel cestino.
. Insalata di pollo e cous cous
. Selezione di salumi e formaggi locali con cipolle caramellate
. Pane, creker
. Fegato di pollo e pancetta, melanzane arrostite e noci tostate
. Insalata di frutta stagionale e dessert
LA BRIE ESTATE
Vi portiamo nella valle di Franschhoek, in una delle fattorie più antiche della zona risalente al 1694. I picnic vengono serviti nel giardino privato della tenuta, ed è anche una delle fermate del wine tram di Franschhoek. Offre degustazione di vini abbinati al cioccolato,  Biltong e vino, e una specialità dalla Turchia, Lokum, un dessert home made abbinato, alla gamma della loro Boutique wine.  Cosa mettiamo nel cestino??
.Una selezione di formaggi, olive della tenuta e pane fatto in casa
. Salumi e insalate fresche di giornata, pesce.
. Dessert e frutta di stagione
ZORGVLIET
Immersa nella valle di Banghoek, a qualche km da Stellenbosh, questa tenuta storica, in stile Cape Dutch offre un luogo davvero meraviglioso per un picnic. Un piccolo angolo di paradiso, dove basta una coperta e potrete trovare all'ombra di una quercia il posto perfetto, oppure un tavolo attrezzato per degustare i loro cestini. Potrete scegliere il cestino che volete dal menù proposto, ed ognuno di essi è completato da pane caldo, burro e l'immancabile bottiglia di uno dei tanti vini premiati della Zorgvliet wine estate.
. Baguette, burro, creker
. Formaggi e marmellate, salumi e polpette di manzo
. Pollo, insalate fresche, Quiche del giorno
. Dolcetti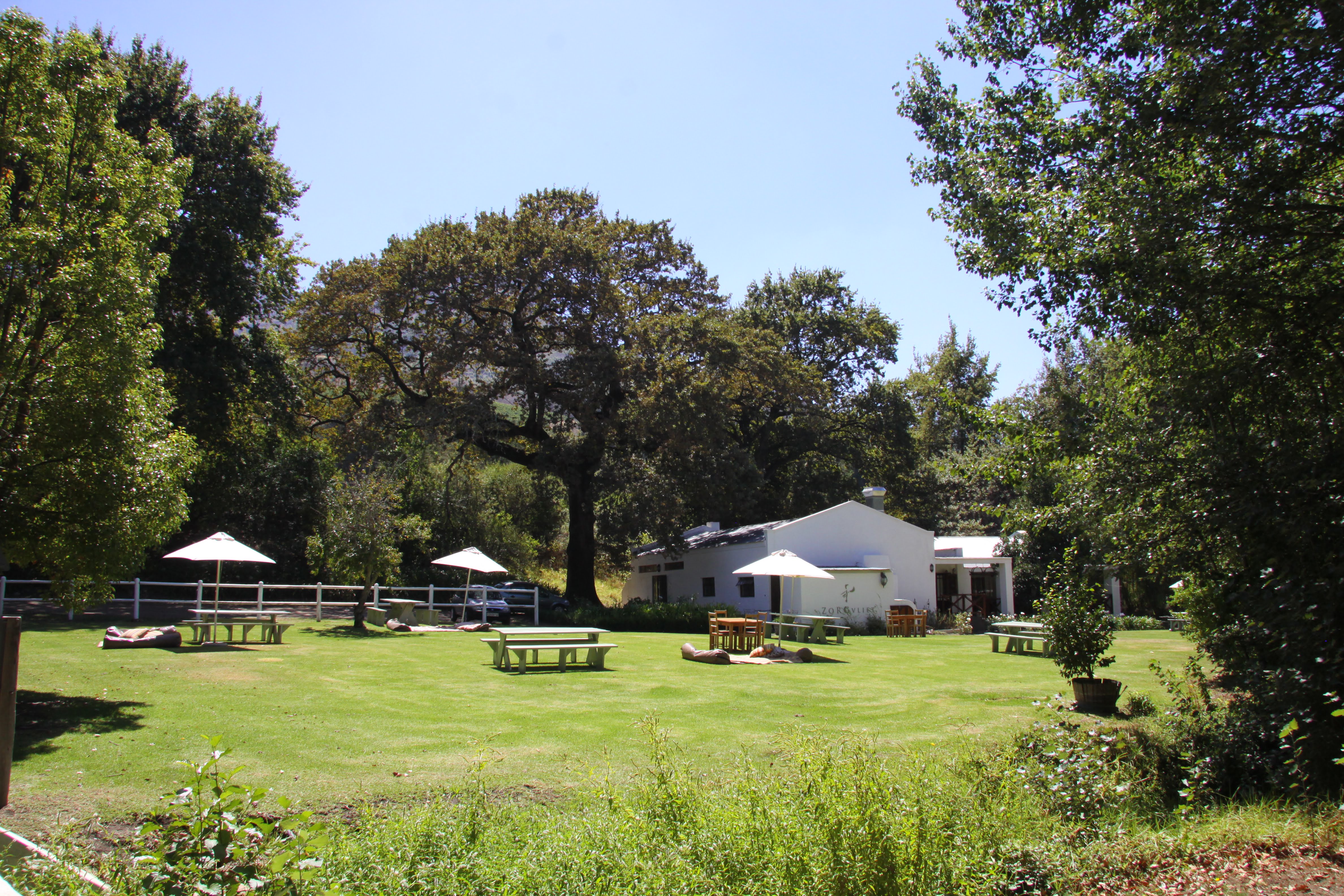 SPIER WINE FARM
Una tenuta ecologica, dove troverete tantissimo spazio all'aperto per un picnic gourmet eccezionale. Troverete un offerta stagionale, vegetariana e non. Vi potete creare il vostro cestino, presso la cucina di Spier wine farm, bevande e prodotti della fattoria e di piccoli artigiani locali, biologici e naturali. Non dimenticate il vino mi raccomando!!! Prendete la coperta e iniziate a preparare il vostro cestino.
. Baguette e panini Home made
. Formaggi, marmellate e conserve
. Pasta fredda, olive marinate, pollo, insalate
. Biltong, salami, e formaggi particolari
. Dolci tipici del Sudafrica, torte, caramelle, pop corn caramellati
LANZERAC WINE ESTATE
Una grande tenuta vinicola risalente al 1692,sede del  primo Pinotage in bottiglia, un maestoso giardino che si affaccia sui vigneti, e un cestino ricco di ottimi prodotti artigianali, una vasta gamma che questa tenuta offre. Dal caffè aromatico, al pane artigianale.. insomma vorrete assaggiare tutto!!
. Pane, torte , pasticcini
. Marmellate fatte in casa, Chutneys , salse
. Sandwich, salumi, formaggi
. Una selezione di vini raffinati
NOBLE HILL WINE ESTATE
Una tenuta che si trova nelle pendici delle montagne Simonsberg. Qui vengono prodotti vini succosi, eleganti e strutturati. Raccontano l'autenticità del luogo. Per godere del vostro Picnic avrete a disposizione tavoli, oppure coperte, su richiesta. Un panorama rilassato, un lago e i vigneti che fanno da cornice per un atmosfera easy. L 'unica tenuta che offre per quanto riguarda il cibo, un ispirazione latina, infatti troverete cucina messicana a deliziare il vostro palato. Gli ingredienti provengono dal giardino privato. Andiamo a vedere cosa potreste mettere nel vostro cestino:
. Una bottiglia di vino
. Fagioli neri e mais alla griglia, insalata verde
. Guacamole fresco di avocado, pane fatto in casa, olive e altre specialità messicane
. Frutta di stagione e parfait di yogurt
. Biscotti Messicani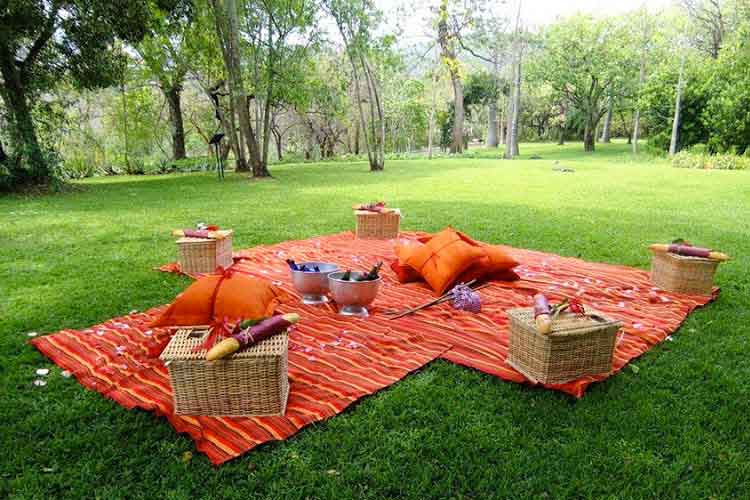 WARWICK WINE ESTATE
Una cantina pittoresca a Stellenbosh, dove avrete la possibilità di scelta tra gli ombrelloni, cuscini, beanbags. Ci sono diverse aree per il picnic, alcunedove il servizio sarà parziale, altre dove sarà completo. The Lawns, dove vi è presente un area per i bambini, e una piccola palestra. Forest Coutyard, in un giardino magnifico, sotto alberi maestosi, un area molto relax. The Pods , una zona apposita se desiderate privacy, con massimo 8 posti, è una combinazione di design e un ambiente rurale. Se siete un piccolo gruppo potrete organizzare una piccola festa, vi sono presenti tavoli per 12 persone. The Penthouse , luogo ideale per i picnic, situato in mezzo ai vigneti, offre una vista mozzafiato. Cosa mettiamo nel cestino :
. Filetto di manzo in crosta di pepe
. Insalate di patate e cipolle rosse e capperi fritti
. Formaggi, tortino di biltong, salumi, creme e marmellate fatte in casa, burro fatto in casa
. Dolci, frutta
. Vino potete portare anche il vostro, pagando un piccolo sovrapprezzo ( diritto di tappo) ma vi consigliamo di bere il loro!!
ALLEE BLEUE
Una tenuta che offre una calorosa ospitalità, un fascino storico, che risale al 1690, arte contemporanea, abbinata ad ottimi vini di qualità, circondata dalla valle di Franschhoek. I bambini si divertiranno nel campo da calcio, scivolo d'acqua e altri giochi, e voi rilassatevi all'ombra di ombrelloni e alberi. Tutte le insalate sono fatte con erbe aromatiche che provengono dalla tenuta. Nel cestino cosa mettete?
. Manzo arrosto con erbe aromatiche della tenuta, carni fredde, insalate
. Pane appena sformato, marmellate di casa, olive, salumi, formaggi
. Mousse di cioccolato con frutta fresca e yogurt
. Vino a scelta della selezione
GROOT COSTANTIA
Una delle più antiche tenute del Sudafrica, questa magnifica tenuta ricca di buon cibo e vino, presso il ristorante Simon's Deli potrete ordinare il vostro cestino, oppure una pre- confezionato. Un grande prato verde, a soli 20 minuti dal centro frenetico della città! Una caffetteria deliziosa, un mercato gourmet per la carne, marmellate, sottaceti, e altre delizie. Andiamo a vedere nei cestini, cosa potreste mettere.
. Baguette, e pane appena sfornato
. Salumi fatti in casa, paté, formaggi, marmellate, conserve
. Insalate fresche, insalate di patate, e delizie vegetariane su richiesta
. Biscotti e deliziosi dessert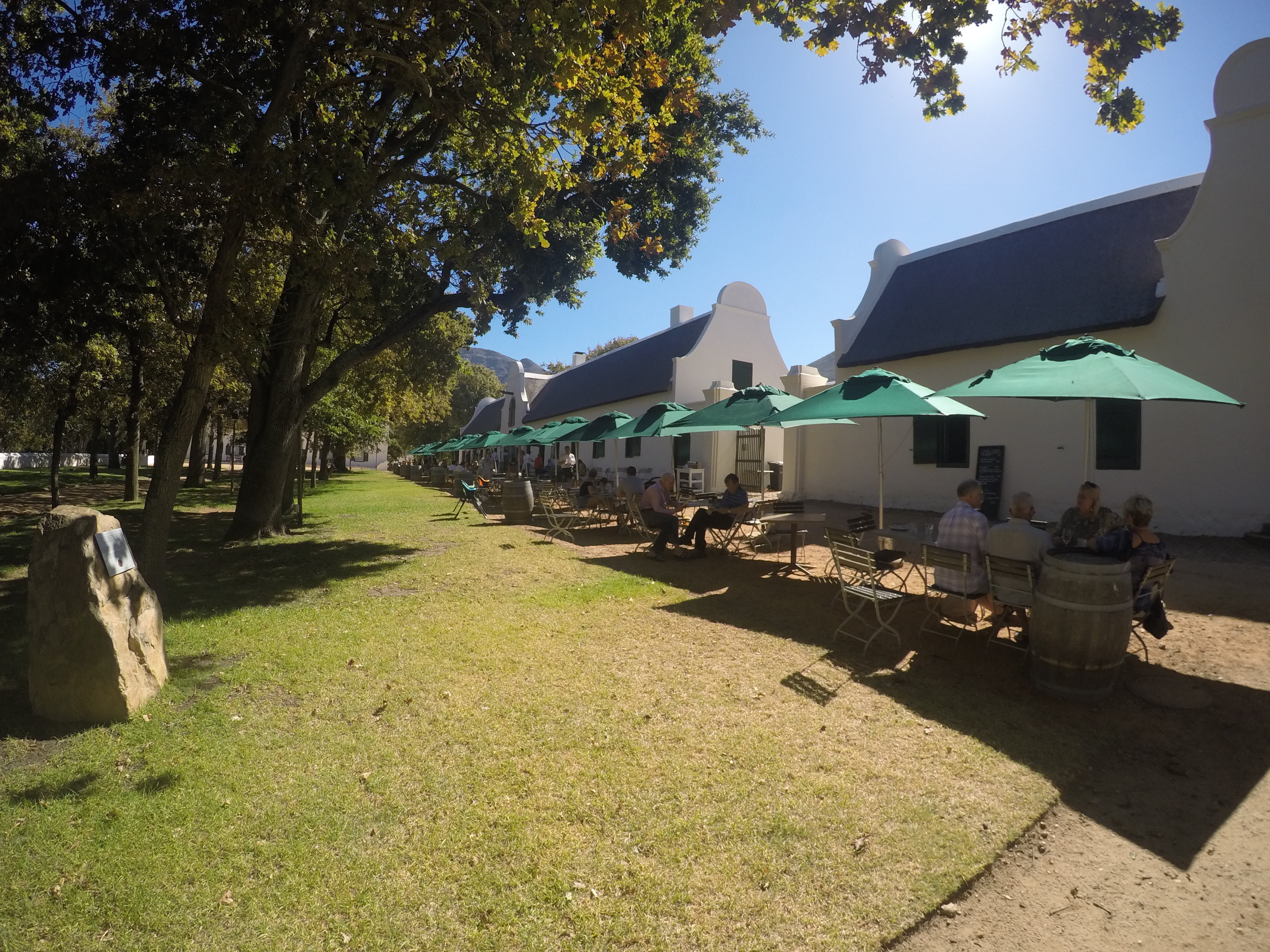 SOLMS DELTA
Immergetevi in questo delizioso luogo, scegliete un posto all'ombra di una quercia, in un rigoglioso prato, accanto alla foresta, oppure vicino alla diga. Le coperte sono fornite su richiesta, e se disponibile vi porteranno loro, con il trattore rimorchio. Vediamo le prelibatezze da mettere nel cestino.
. Creker e pane fatto in casa
. Una selezione di formaggi, blatjang, conserve  e marmellate
. Insalate fresche, di patate, di frutta, verdure estive marinate, pasta fresca con gamberi e limone fresco
. Rosterkoek servito con burro alle erbe, noci tostate e caramellate
. Carne di pollo e manzo affumicate, carne di maiale affumicata alla griglia servita con cipolle caramellate
. Dolci tipici, vino e acqua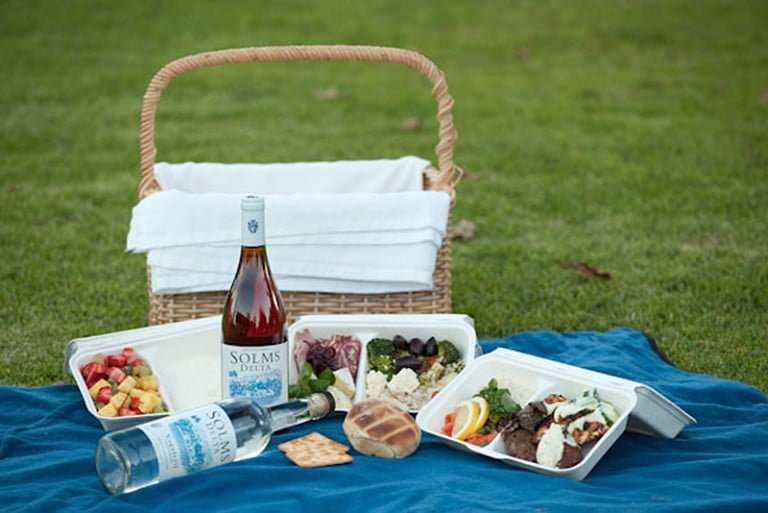 HOLDEN MANZ WINE ESTATE
Un luogo idilliaco a Franschhoek, potrete rilassarvi sotto le antiche quercie di questa tenuta, oppure attraversare i vigneti e trovare un luogo tranquillo in riva al fiume, e godervi la giornata immersi nella natura. Prodotti freschi e una selezione di vini premiati. Vediamo nel cestino cosa metterete.
. Pane appena sformato
. Formaggi, olive marinate, prodotti locali
. Pollo al forno,insalate
. Dolcetti, e vino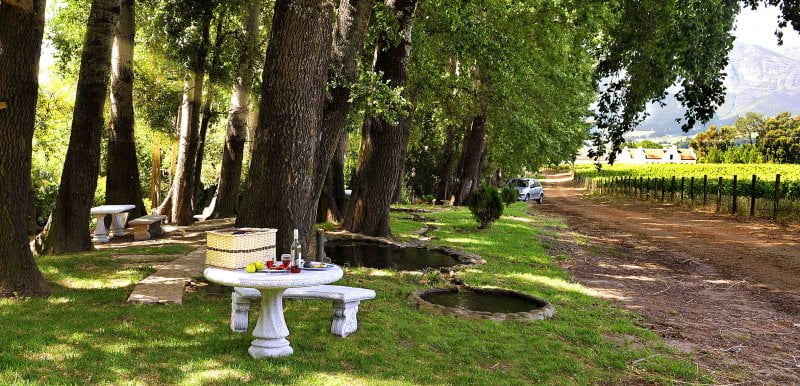 GRANDE PROVENCE HERITAGE WINE ESTATE
Franschhoek, un picnic rustico in vero stile francese, raffinato e gourmet. Delizie provenienti dalle cucine della tenuta. Ma andiamo a vedere nel cestino.
. Baguette deliziose, Brie artigianale, conserve fatte in casa, burro artigianale
. Torte salate, parfait di fegato di coniglio, quiche di funghi selvatici e insalate.
. Dolci, e vino
Enjoy your Picnic!!!